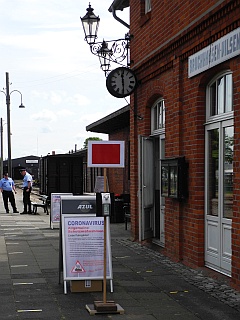 Dear passengers!
Again our trains are under steam for you! As the situation is still very dynamic, we kindly ask you to inform yourself about the current regulations here on our website before your arrival.
Boarding is currently only possible in Bruchhausen-Vilsen and the trains require seat tickets. Please purchase tickets in advance; only remaining tickets are sold at the ticket office in Bruchhausen-Vilsene:

by telephone on 0421 36 36 36.
If the rides do not take place, tickets will be refunded at the point of sale. DEV members please book a seat ticket for children under 6 for a ride.
Also required for train travel are:
at least a medical mouth-nose mask (higher grade recommended) to be worn during the ride.
(a rapid test is not currently required!)
Furthermore, registration on site is required:
Recommendation: please bring a completed Passenger Registration Form, Download here or
you can fill in a Passenger Registration Form on site.
Thank you for your understanding, see you soon!