Dear Visitors!
Due to governmental decisions and COVID-19 measures the beginning of ""Kaffkieker" train operations will be postponed in 2021.
We hope to see our trains running by pentecost, please keep up to date with our current plans on this website before getting to the Museum-Railway.
We look forward to welcoming you all back soon - Thank you!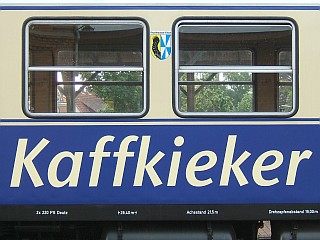 Tourist trains between Eystrup - Hoya - Br.Vilsen - Syke
Communities along the line and the local railroad company "Verkehrsbetriebe Grafschaft Hoya GmbH" do offer tourist trains with diesel motorcars on the standard gauge track Eystrup - Hoya - Br.Vilsen - Syke. Trains will run from 1st of may to 3rd of october on some sundays and on selected holidays. This will give you connecting service to the Museum-Railway via the "Deutsche Bahn" stations at Eystrup and Syke. Additional information, timetable and fares are given on the "Kaffkieker" website.